What to expect during your first appointment with Carleen Sanchez Hair Color or Olaplex DryCut Experience:
– Discuss problems and solutions for your hair
– Start the session with a Signature DryCut
– A custom color is formulated in front of you at our color bar
– You relax in our color lounge with complimentary cocktails and snacks
– We coach you on how to properly cleanse & hydrate your curly and wavy hair
– My staff provides relaxing scalp, arm & hand massage
– We give you a styling lesson, AKA "Boot Camp" or "Curl Coaching," so YOU can duplicate the style at home.
– We teach you hands on techniques such as "clipping", "plopping" and other curly skills.
– We may use our Bioionic dryers or Chi Infrared dryer depending on the look we are trying to achieve
– Take-home curlscription sheet, customized and tailored for your unique curl type
– Several pleasant surprises for you at the end (you will have to come in to learn what they are).
See you soon at your appointment with Carleen Sanchez!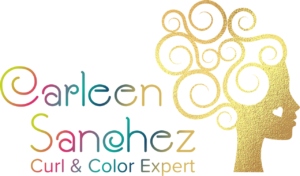 Carleen Sanchez Curl & Color Expert
1002 Broadway Blvd, Reno, NV 89502
775-721-2969