I decided that you deserve more help on your Curly hair journey, so at the start of 2016 I started filming videos for you and created a Youtube channel. Check out my best curly hair tips on YouTube here!
I cleared out my storage building with a mega remodel and created a fun open space that I could create videos that I hope will inspire you to throw away your brushes, combs & flat irons. Most importantly I want you to realize that your curls or waves are a HUGE GIFT from the universe (and your parents).
I am not comfortable being on camera but if I can help you start a love affair with your curls/waves, the pain is worth it!
Please like/comment and subscribe to my channel and let me know what ideas for future curly hair tips on YouTube you want me to shoot. And of course, don't forget that you can find curly hair tips on my blog.
You can always email me carleenrocks@yahoo.com or text 775-721-2969
You are well on your way to Good hair day Nirvana. Here is the link…
Cheers,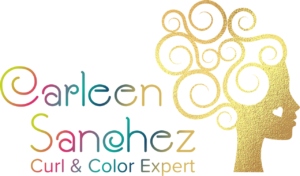 Carleen Sanchez Curl & Color Expert
1002 Broadway Blvd, Reno, NV 89502
775-721-2969