My work was recently featured in Curl Magazine! Curl Magazine interviewed me in a Q & A, asking about my background, my work, and of course, curly hair!

How long have you been a Curl Specialist?
I have always cut hair dry so I have been attracting a wavy/curly clientele for 16 years. I only feel I have become a Curl Specialist in the last 7 years of serving waves/curls after learning how to hydrate the hair.

What additional curl education have you undergone?
Curly Hair Artistry, Deva Advanced Academy, Cut it Kinky, Cultivate Your Curls, Style Your Curls with Confidence, Curls Hold Magic, Atoya Bass Stylist Class, and I spend 1 hour minimum each day learning more.
What additional curl education have you undergone?
I ask them to come fully styled as if they are going on a hot date. The better my Goddesses look when they come in the better they look when they leave.
How long is a typical appointment with you and what does it include?
I work with a team of 3 fantastic Curly Hair & Color Artists and we all cater to you and your needs so you get a rockstar experience.

2 hours and 15 minutes is the average amount of time and that includes:
Personalized aromatherapy
Dryhair cutting and shaping using multiple techniques
Olaplex/Deep Hydrating Conditioner OR Dimensional Shine Boosting-HairColor
Curlights-Scalp/neck and hand/arm massage
Beauty bar treatment (think parrafin hand dip or rockstar under eye treatment etc.)
Your choice of style finish: Hydrate & Define, Volume to the Moon, or fancy Braid set with Olaplex or deep conditioner
Option for foot massage while your color or hair treatment is processing
Back massage while you are drying under our fancy CHI hood dryer
You will get gifts each visit and drink from an extensive complimentary drink list (most people want champagne or margaritas)
I also have a yummy snack bar if you get the munchies
If you're a new guest, your visit will take an extra 15+ minutes and includes:
A visit thru our Wavy/Curly girl show & tell basket
A take home customized CurlScription. The Curlscription is where all the instructions for technique and products used just for you are listed.
You also get a new guest gift bag that has multiple gifts inside to help you on your wave/curl journey.
What is one thing you wish all curlies realized?
That you are SO LUCKY! You won the hair lottery!!!
Who inspires you?
I have been coaching Curly Hair & Color artists and watching them grow and gain confidence and become AMAZING in their unique ways is so inspiring. I also find inspiration daily in my online curlfriends & fantastic curly hair artists located all around the world.
What is your favorite part about specializing in curls?
Every guest is a totally different hair story. Everything I do is customized to that unique wave/curl type and the lovely human attached.
Is there a curl myth you'd love to bust?
I'd LOVE to bust the belief that curls aren't professional. It breaks my heart when curlfriends straighten their hair for work or special events and say that straight is more professional. Waves/Curls are a gift and you look way more professional being your confident self.
What celeb's hair would you love to get your hands on?
Weird Al Yankovic has some epic curls I'd love to get my hands on.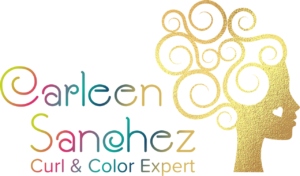 Carleen Sanchez Curl & Color Expert
1002 Broadway Blvd, Reno, NV 89502
775-721-2969