What to expect from a Carleen Sanchez hair experience:
FUN, EDUCATION & 5 STAR SERVICE!
I adore working with Wavy, Swavy, Corkscrew, Bottacheli, and all types of 2A, 2B, 2C, 3A, 3B, 3C curls.
I love to color each special wave or coil to bring out the shine and dimension in order to keep my guests looking unique and beautiful.
In fact I love your curls so much I've opened Reno's first and only Curly Hair Artistry salon with focus exclusively on the needs of wavy, curly, swavy, Bottacheli and corkscrew curls.
Accompanied by my three hydrate and style specialists, we attend to your Curls and help you on your curl journey.
I work in a private salon environment with color lounge, complimentary snack bar, refreshments, disco balls, aromatherapy, plants, healing crystals and lots of extras with your ultimate comfort in mind.
Color and Cut Service –
It starts with a consultation to really find out what color and haircut will make you feel and look amazing.
Upon your visit, you will be offered a complimentary cocktail or refreshment.
You'll receive my signature custom haircut designed to bring out your best features, followed by the application of rich hydrating color that acts like a conditioner.
Next, your visit to the shampoo lounge will send you on a wave of bliss, complete with a scalp and hand/arm massage, as well as an aroma therapy warm towel on top of the most advanced conditioner picked especially for your hair type.
You will then embark on a HANDS ON styling lesson, which will provide you with a custom "curlscription" and a curly hair lesson targeted at your unique curls' needs.
I want you to be able to duplicate what we do so you can get salon results at home.
I will recommend products to solve your hair woes and gift you with a prize as well as topping your new color with complimentary hair sparkle extensions that really make the color POP! Contact me to book your appointment for a unique Carleen Sanchez hair experience!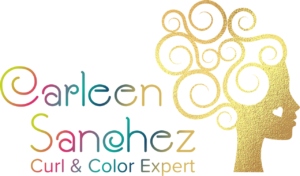 Carleen Sanchez Curl & Color Expert
1002 Broadway Blvd, Reno, NV 89502
775-721-2969